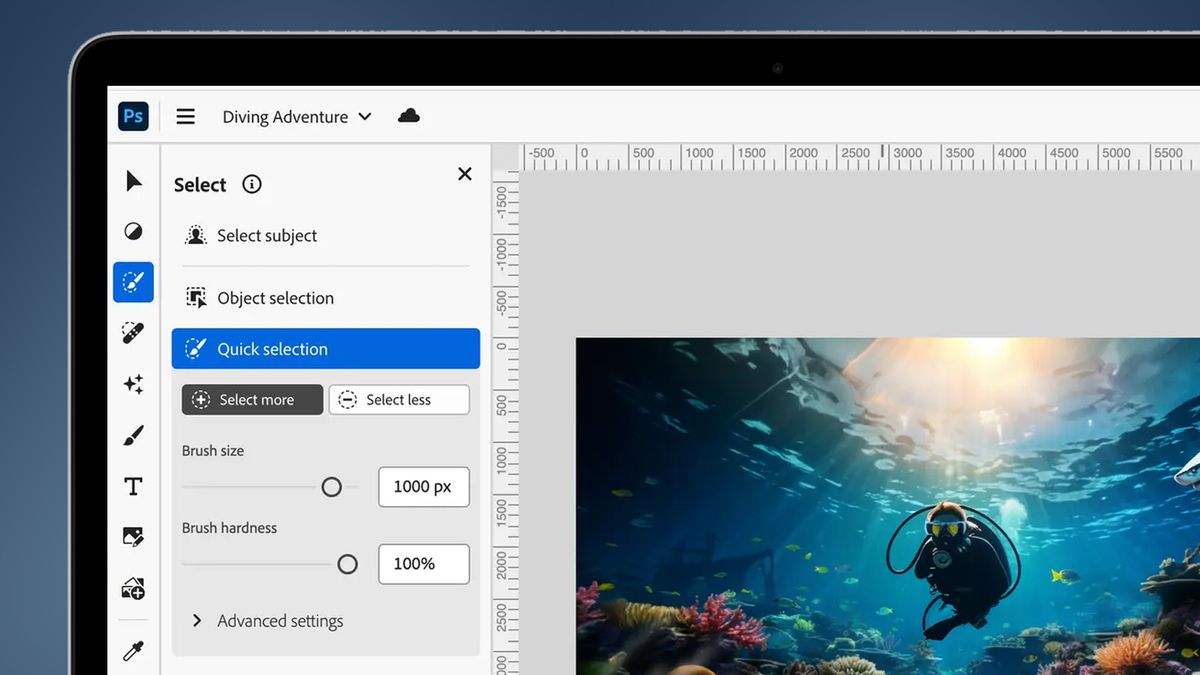 Adobe's browser-based 'Photoshop on the web' has finally launched after spending two years in beta – but the photo-editing tool still requires a hefty monthly subscription, despite previous rumors of a freemium version.
The good news for Creative Cloud subscribers who need a web-based version of Photoshop – hello, Chromebook fans – is that Photoshop on the web has launched with two of Adobe's most useful AI-powered tools, Generative Fill and Generative Expand.
The former can add new objects to your images with a simple text prompt, while the latter lets you broaden an image to add more information to a scene (it's a bit like a reverse of the traditional crop tool).
While Photoshop on the web is a more basic version of the desktop program, these tools do sit alongside staples like 'remove background', the spot healing brush, and layers-based editing. As images are saved in Creative Cloud, you can also access any in-progress files from any computer and keep working on them.
Naturally, there are lots of missing features, but Adobe says that the patch tool, pen tool, smart object support, polygonal lasso, and more are all coming "soon". What isn't coming, sadly, is a free version of web-based Photoshop – the feature's FAQ page still says that "there isn't a free version of Photoshop on the web". We've asked Adobe if this is likely to change and will update this article when we hear back.
That's a slight shame, as there were strong rumors last year that Photoshop on the web would be coming as a freemium option, following some tests with Canadian users. That still looks unlikely right now, so the only way to get Photoshop on the web is to pay for a full Photoshop plan ($20.99 / £19.97 / AU$29.99 per month).
---
Analysis: Photoshop remains a premium editor
Despite the eventual arrival of Photoshop on the web, Adobe remains reluctant to open it up to a wider audience with a freemium or even standalone, subsidized version.
This means the best free photo editors – most notably, Canva and GIMP – will remain popular choices for anyone who needs a simple tool for lighter image editing. Canva is known for its user-friendliness, and while some of its tools (like background removal) need a paid subscription (from S119 / £99 / AU$165 per year) this is still cheaper than Photoshop.
Rather than a heavily watered-down version of Photoshop, Adobe instead appears to be packing the program's web-based equivalent with some pretty powerful features, including those AI-powered generative tools.
Unfortunately, from November 1, Adobe will start introducing what it calls "generative credits" for features like Generative Fill and Generative Expand, a confusing system that could restrict how many times you can use them per month.
According to Adobe's FAQ on generative credits, a Photoshop subscriber will get 500 of these credits per month, with Generative Fill and Expand counting as one credit. We'll likely get more clarification on this closer to when it rolls out. But it's a reminder that as impressive as new AI-powered features are, they also come with big processing demands for the likes of Adobe.
You might also like